"At eight sides, a proportion of four to six".
Le centre de la section d'un arbre est marqué par le noyau. Partant de ce noyau, on trace d'abord deux lignes perpendiculaires marquant les quatre premières directions. Chaque quart de section est divisé en deux, donnant alors les huit directions. Si l'on découpe l'une de ces directions en quatre mesures égales, elles se reproduisent six fois dans chaque quart de section du fût. Cette mesure de six est également contenue quatre fois dans le cercle que nous cherchons à atteindre. L'ensemble forme un polyèdre à 24 côtés.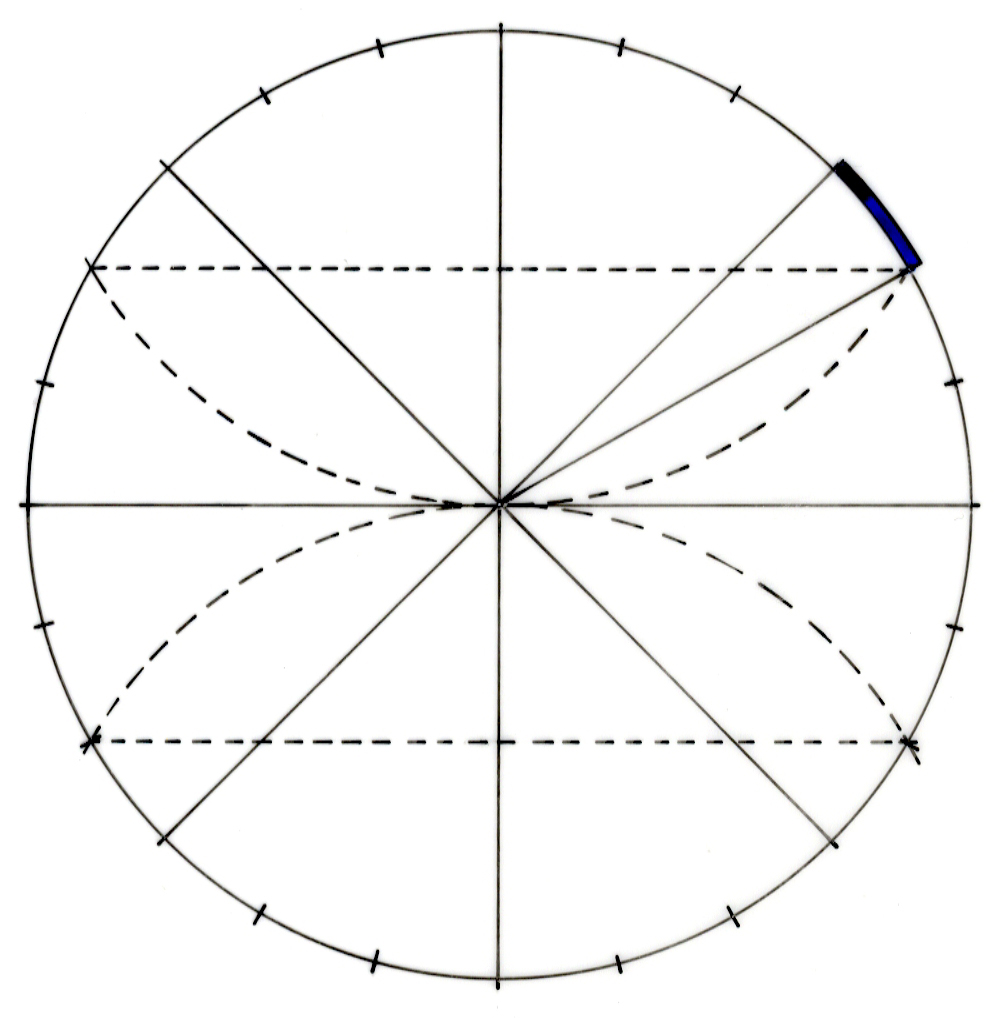 "Between the double lines two-tenths are contained".
On divise la première des trois mesures contenues entre deux directions en deux, ce qui nous donne une sous-division.
"(The next line) is at three times six from the double lines,
And the remainder is divided into three".
On reporte la sous-division entre les segments six fois pour tracer un nouveau trait passant par le centre. On recommence ainsi deux autres fois et chaque section contenue dans les huit nouvelles directions ainsi obtenues est divisée en trois. On obtient ainsi un polyèdre de 48 côtés dont le rayon est de 4 mesures utilisées comme jalon de base. Les outils servant à réaliser ce dessin sont le compas, le fil à plomb et la règle.
     Il s'agit d'une géométrie de mesures ajoutées où la seule division est celle par deux pour les angles ou les sections. Le "1/8 ou 2/3" de Monsieur Ruitenbeek impose un calcul peu commun aux charpentiers dont je doute qu'il ait pu être utilisé dans le Lu Ban Jing. J'ai soumis cette interprétation à l'avis de Monsieur Dumarçay. Bien que nous soyons d'accord sur l'erreur de Monsieur Ruitenbeek, nos avis restent divergeants quant à l'interprétation à donner en dessin. Monsieur Ruitenbeek dit que les quatre vers servent à débiter le bois en colonne, mais Monsieur Dumaçay a raison d'affirmer que nous n'en avons pas les preuves, voyant dans le dessin de Monsieur Ruitenbeek un modèle de coupe par "dosse ou par quartier" sans relation malgré tout au poème de charpentier. N'ayant pu nous mettre d'accord sur ce point, je vous laisse seule juge de la réalité, ou pas, de mes dessins.